A
A
A
Mangazeya Mining founder Sergey Yanchukov about the future of Russian gold mining
relic
293 Posts
1
January 30, 2020 - 1:04 pm
"This is all effort, work, risk"
Mangazeya Mining founder Sergey Yanchukov about the future of Russian gold mining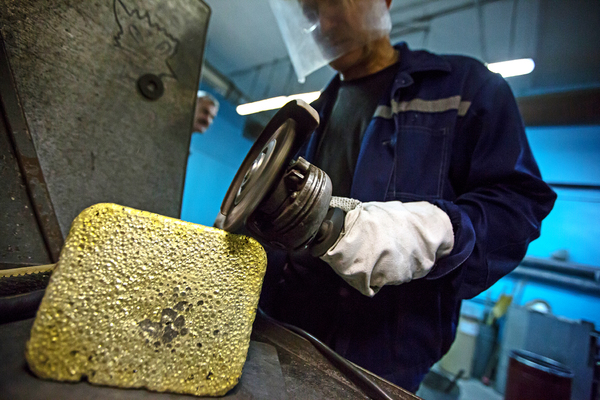 Photo: Igor Ageenko / RIA News
Russia ranks first in the world in gold reserves, but in terms of its production - only the third. The production of this noble metal in our country has changed over the past several decades. First of all, this is due to the depletion of alluvial sources, which were historically processed in the first place and did not require large financial investments. But thanks to the advent of new technologies, gold mining companies are able to profitably obtain precious metal from indigenous deposits. The owner of the Mangazeya Mining company Sergey Yanchukov told Lente.ru how they do it.
Lenti.ru: Does gold mining in Russia have its own specifics and what has changed in recent years in this industry?
Sergey Yanchukov: Of course, gold mining has specifics in every country: legislation, regulatory authorities, climatic conditions, experience and quality, qualifications of specialists in the industry, and much more. Countries differ in access to infrastructure and in degree of development. There are many differences in the economy - for example, the hour of human labor in each country is different, the different costs of electricity, materials, etc. Each country has its own characteristics, the services market and financing are arranged differently. Mangazeya works in Russia, therefore we can give a detailed assessment only on the situation in the industry in our country.
Has something changed in recent years? Of course, there are changes, but the main trend is the gradual depletion of the mineral resource base. Gold miners are forced to switch to more complex and expensive deposits. Thanks to the support of the government, Far East benefits are operating in the Far East, which favorably affects the industry. There is a certain state support in resolving infrastructure issues - many thanks for this.
How does your company react to these changes?
Mangazeya now has three deposits under development: Savkino and Nasedkino, where simple ore is mined, and Kochkovskoye, which contains both oxidized and refractory ores. And if we are used to working with oxidized ores in a mode convenient for ourselves, then the issue of processing the second part of the reserves of the Kochkovsky ore of refractory ores is a challenge that is relevant for the entire industry as a whole.
We are developing our internal competencies in working with such ores: we make maximum use of the experience of international engineering companies, research centers, we are very responsible for the laboratory and industrial testing programs for this ore, we pay special attention to the writing of technological regulations, and engineering for the construction of a plant that could process such a complex ore.
According to various estimates, up to 20-40 percent of gold reserves in Russia are refractory ores, which, as you know, are called so because extraordinary tenacity is necessary to extract the precious metal from them. They are the part of the Mangazeya's gold assets. Are you introducing new gold mining technologies or working the old fashioned way?
Of course, we are trying to introduce new technologies into production! It is impossible to work the old fashioned way on such ore, it simply will not give up the metal or give it too little, and there will be no economy there. At the fields of the Mangazeya company, we use the technologies of world manufacturers - both European and Asian. We are constantly investing in the development of our scientific and technological potential, today gold mining is a very high-tech industry in which it is impossible to exist in a different way.
How interesting are Russian gold mining companies in the new conditions for investors?
Of course, interesting. The price is at a good level, growth prospects remain. Of course, certain efforts must be made to achieve the result: to work with technology, optimize production processes, and invest in geological exploration. This is all work, effort, risk in places. But now there are no factors that would repel gold mining.
Due to the changing conditions of gold mining, recently, Russian producers are actively increasing operational efficiency. How does your company solve this problem?
Increasing operational efficiency in our industry begins with a better understanding of the geology of the field, with a more rigorous and careful approach to field exploration, including operational exploration. This allows you to better assess the existing base and plan several horizons ahead. Again, this is an opportunity to better plan mining operations and conduct them in the most optimal and cost-effective way, without wasting money. Next up are recycling cost management issues. And here, it is also critical to get the most information during the production process, make decisions based on this information and manage the process. During the construction of the factory in Nasedkino, we strive for the most reasonable automation of processes to monitor, control and manage the extraction. Optimization is, first of all, data analysis, planning, when you clearly understand what influences and how to manage it.
How does this affect the financial performance of Mangazeya?
There are too many factors that affect financial results. In our case, one of the very important is that over the past few years we have been actively investing in the development and construction of the Nasedkino plant. We always calculate the effect of each event planned in the company and understand what it affects and how it affects the overall financial picture.
Since last summer, the price of the noble metal has steadily increased and reached the mark of $ 1,500 per ounce, the average annual figure is $ 1,350 per ounce. The market has not seen such prices for several years. What do you think is connected with?
Economic instability, the global complex political picture, the confrontation between China and the United States are the main causes of changes in gold prices. For our industry, changes in gold prices in plus are positive, this factor balances the market and helps to cope more easily with the transition to difficult-to-mine ore.
Does Russian gold mining have growth prospects?
The sector has been demonstrating production growth for almost all of the past ten years. We are building new facilities, our workshop colleagues also have enough new deposits, the market is developing - therefore there are definitely prospects for growth. Resources are not exhausted, gold mining companies have potential, and, I am sure, the market will develop.
Forum Timezone:
America/Denver
All RSS
Show Stats
Top Posters:
Carib: 419
terrancekeenan: 62
Rugofa: 5
fantismus: 1
Newest Members:
Evgenytwp
AsitakBip
Charlessnabs
AshleyTen
KNOPINSKI4644
---- - httpitissex.xyz P.S.
Forum Stats:
Groups: 1
Forums: 1
Topics: 86
Posts: 104
Member Stats:
Guest Posters: 20
Members: 484
Moderators: 1
Admins: 1
Most Users Ever Online: 128
Currently Online:
1 Guest(s)
Currently Browsing this Page:
1 Guest(s)